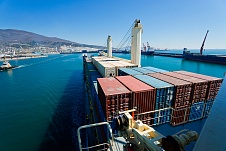 The terminal has an extensive transport and logistics infrastructure (access roads, railway deadlocks, open and closed warehouses, loading equipment).
Oboronlogistics became a partner of GVSU No.4 in attracting customers with commercial cargoes, as well as in technical re-equipment of the terminal with specialized equipment.
By order of the Government of the Russian Federation of 24 October 2018 "Oboronlogistics" LLC has the right to perform international cargo transportation of civilian goods with own ships via Geoport of Novorossiysk.
In this regard, operations support facilities of GVSU No.4 will be used as a rear terminal for transshipment, storage, and processing of export and import cargoes of Oboronlogistics customers.