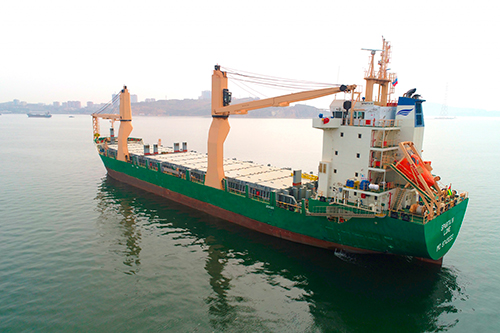 Previously working on the line motorship Sparta IV, will soon begin sea commercial transportation in the Asia-Pacific region.
Modern and high-speed Sparta IV (built in 2017) is equipped with powerful cargo cranes, which allows to quickly carry out cargo handling on its own.
The motorship is a part of Oboronlogistics fleet from May 2018. The decision to replace the vessel is due to the commercial interests of the company.
According to the information of the River and Sea Transport Agency of Russia in winter restrictions on the regime of ice navigation in the seaport of Magadan is not lower than Ice3.
According to its technical characteristics, motorship Semyon Dezhnev meets all the requirements for work on the line.
OBL ORIENT LINE service for the delivery of container, general and bulk-loaded cargoes, organized by Oboronlogistics with the participation of its subsidiary company SK-Vostok and company Garant-Intermodal runs from June 2018.
The Vladivostok-Magadan line connects the ports of Vladivostok on the Northwest coast of the Sea of Japan and Magadan on the Northern coast of the Sea of Okhotsk.
Line is used for the carriage of cargoes in direct port-to-port connection, and in direct mixed rail-water connection. Oboronlogistics carries out transportation of cargoes requiring special transport conditions, including perishables, dangerous goods, cars, heavy equipment and oversized cargo.