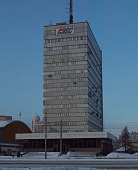 The main tasks of the new structural unit of Oboronlogistika in Arkhangelsk are servicing Severny Zavoz (program to supply food and fuel to the northern regions of Russia) and regular Arkhangelsk—Novaya Zemlya flights, as well as logistical support for the construction of facilities of the Ministry of Defense of Russia by means of Military construction complex in the Arctic zone.
Arkhangelsk region is a reference region for the Company's work in the Arctic. In 2016 "Oboronlogistics" LLC signed a cooperation agreement with the government of Arkhangelsk region.
From 2017 by the decree of the Government of the Russian Federation Oboronlogistika is defined the only provider of works and services for the delivery of military goods and tangible property to the Kuril islands and the Arctic zone of the Russian Federation.
In 2017 "Oboronlogistics" LLC together with its subsidiary OBL-SERVIS opened flight connection between Arkhangelsk and Novaya Zemlya. Increasing the regularity of Arkhangelsk-Novaya Zemlya flights is aimed at the socio-economic development of the Russian Arctic zone and the growth of its investment potential.
In addition, together with the OOO Sovfraht and Northern (Arctic) Federal University, Oboronlogistika creates in Arkhangelsk Control Centre of Sea and Air Transportation in the Arctic zone of the Russian Federation.