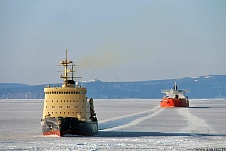 Oboronlogistics together with Russian and foreign partners started to develop special software that allows to collect and process hydrometeorological data, as well as data on the ice situation in the Arctic zone of the Russian Federation and to determine the degree of their influence on transport and logistics processes in the region.
A number of Russian and foreign sources will be used to obtain hydrometeorological information and data on ice conditions.
The software product is planned to be implemented in the activities of Oboronlogistics Situational and Logistics Center in Arkhangelsk, the main function of which is the management of sea transportation in the Arctic.