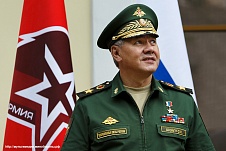 On August 22, 2017, the third International Military Technical Forum Army-2017 was opened in Kubinka near Moscow under the auspices of the Ministry of Defense of Russia.
The main events of the forum will be held on the territory of the Military-patriotic park of culture and recreation of the Armed Forces of the Russian Federation «Patriot». The area of exhibition stands in pavilions and open areas are in excess of 300 thousand square meters.
At the opening ceremony, the Minister of Defence of the Russian Federation, General of the Army Sergey Shoygu expressed his hope that the forum would contribute to the development of military-technical cooperation among countries.
«We hope that the forum will make a significant contribution to the strengthening of existing ties in the field of international military-technical cooperation, will serve to establish a constructive dialogue with foreign partners and the conclusion of mutually beneficial contracts,» the Minister said.