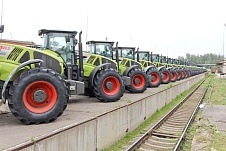 In December 2018, Oboronaviahran joint-stock company and Lomonosovskaya Tsentralnaya Basa Tekhnicheskogo Imushchestva joint-stock company (LTsBTI) entered the Oboronlogistics Group of companies as sudsidiary enterprises.
Thus Oboronlogistics expands its opportunities in the field of warehouse logistics in Moscow and Leningrad regions. The increase of the number of the points of acceptance, storage and transshipment of goods will optimize costs and increase the profitability of the group of companies.
Join stock company Oboronaviahran is a big functioning warehouse complex of category C+. The enterprise is located in the village of Bolshye Vyazemy, Odintsovo district, Moscow region, near the main transport arteries of the region, has a railway connection with the Golitsyno station and the Bekasovo sorting station.
The main activity of Join stock company LTsBTI is storage and warehousing. The base is located in the municipality of Lomonosov city of St. Petersburg on the shore of the Gulf of Finland.
The integration of the warehouse complexes under one management and their inclusion into one logistic chain of Oboronlogistics guarantee the customer high-quality, continuous and cost-effective delivery of all types of cargo.