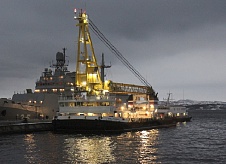 Photo of the PortNews information agency website:
http://portnews.ru/news/269880/
SC NORTH-WEST subsidiary company of Oboronlogistics carried out the sea towing of the floating crane of the project 02690 SPK-53150 for the needs of the Northern fleet.
Towing was carried out in difficult weather conditions and took about 30 days. The barge-towing train with crane left the port of Lomonosov on November 7, passed through the Gulf of Finland, the Danish Straits, the Norwegian Sea and arrived in Murmansk on December 12, 2018, where the crane was received by the crew and prepared for winter operation. On December 21, a ceremony of raising the flag of the auxiliary fleet of the Russian Navy took place at the Northern fleet base in Severomorsk on the floating crane.
Self-propelled floating crane of the project 02690 SPK-53150 with the improved ergonomics, built at a shipbuilding company Almaz in St. Petersburg. It is intended for performance of various types of loading and unloading works, both at the mooring, and on raid, and in the open sea. It can be used for ship-lifting operations and can carry cargo on the upper deck. Equipped with stabilization, navigation and control systems. Crane capacity is 150 tons, deadweight is 2000 tons, length is about 50 m, width is 22 m, range - 3500 miles, autonomy -10 days, the crew - 22 people, speeds up to 9 knots.
In the Northern fleet, floating cranes of this type are widely used for loading military cargo and various types of material, as well as in operations to lift historical artifacts from the bottom of the Barents Sea.
The task of towing the crane was performed by the specialists of SC NORTH-WEST, the practical experience in marine towing of an object of this class will be further used by Oboronlogistics in dealing with the new issues on other routes.