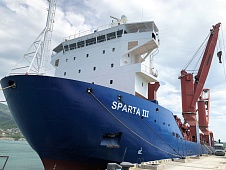 Oboronlogistics universal bulk carrier the "Sparta III" successfully performed the first long-haul voyage. The vessel made the transition from the port of St. Petersburg to the port of Cam Ranh (Vietnam) in the interests of the customer. Currently, a similar route will made ship "Sparta II".
Back and forth voyage in this direction takes up to 2 months. An important task on this route was to organize the restocking of the vessel in different parts of the world, taking into account the sanctions and the risk of passing areas of the sea piracy.
Universal dry cargo ships "Sparta", "Sparta II" and "Sparta III" ware designed to work on long routes, including circumnavigation. The company fleet recently passed modernization. The new radio equipment installed, allowing to obtain information about meteorological conditions and to optimize costs when performing the sea carriage.
Vessel traffic monitored by the staff Situational Logistics Center of Oboronlogistics. The SLC operating system processes information and allows you to plan transportation taking into account weather conditions, sea traffic, the state of the vessel and the capabilities of the port infrastructure.
The route, successfully carried out by the ship "Sparta III", and the experience gained by the specialists of the company, open up new prospects of work with big customers and delivery of goods around the world.