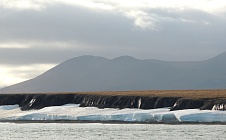 According to the assignment of the President of the Russian Federation 12 February 2019 the government of the Russian Federation issued a decree that defines Oboronlogistics as the only provider of works and services related to delivery of cargo in the Arctic zone of the Russian Federation and the far Eastern region.
Earlier, in 2016 Oboronlogistics became the sole contractor for the delivery of goods and property in the Arctic and the Kurile island area. The new order expanded the territory of cargo delivery and opens new horizons for the Company.
Company is planning to deliver more than 16 600 tons of cargo to Arctic and Far East points. Oboronlogistics will start Northern delivery in Arctic in summer season 2019. Due to the more favorable ice conditions in the far Eastern sea basin, cargo transportation will be carried out in a wider time range.
The Northern delivery in the interests of the Russian defense Ministry will be carried out by Oboronlogistics own fleet, as well as by vessels of companies-partners, taking into account the optimal routes and places of delivery and in accordance with the tariffs defined by the Concept of transport support in the Arctic zone of the Russian Federation and the far East region.