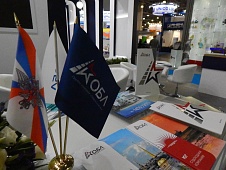 The largest transport and logistics exhibition TransRussia 2019 was completed in Moscow at the international exhibition center Crocus Expo.
This year the exhibition was more extensive. More than 400 companies from 28 countries took part in the event. Scandinavia, the Baltic States, Germany, Italy, Hungary, China and Iran were active participants of the exhibition. The organizers held a number of new formats, conferences and round tables. Special attention was paid to innovative technologies, optimization and security of logistics. Every day the exhibition was visited by more than 10 thousand people. The main part of the visitors was represented by potential consignors and intermediary companies.
The stand of Oboronlogistics received great attention. Consignors are interested in the delivery of goods to Turkey, Lebanon, Syria and other countries of the Middle East and the Mediterranean through the port of Novorossiysk. The customs representative's license, obtained in 2018, created an advantage for the company. Oboronlogistics services in the field of road, container and oversized transportation in Russia, as well as the possibility of organizing air transportation around the world were in demand. A separate interest was focused on work on the Northern sea route and delivery of goods to the far East and the Arctic zone. Many inquiries referred to the store and modern warehouse complexes throughout Russia, which Oboronlogistics has.
Oboronlogistics is satisfied with the work at the exhibition TransRussia 2019 and is open to further dialogue and fruitful cooperation with all potential clients and partners.