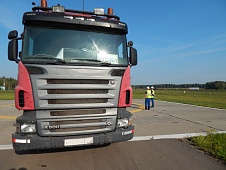 The company OBL-SERVIS (a subsidiary of Oboronlogistics), has carried out a complex road transportation of oversized valuable cargo in the framework of cooperation with aviation industry.
It was not a planned transportation and it required prompt execution. The fuselage and components of the aircraft passed through the territory of the Moscow region on trawls from the manufacturer to the airfield. The cargo had a complex alignment and the size of the cargo exceeded the standard capacity of roads, so loading and delivery was carried out at night and was accompanied by increased security measures.
The job was competently done by experts OBL-SERVIS, experience in transportation of object of this class will be used by Oboronlogistics in the determination of new orders on other routes.
The main advantages of Oboronlogistics road transport — efficiency of transportation and the ability to deliver goods "from door to door". For transportation of complex cargoes the company uses low-frame trucks (trawls) with a special module unit and designs transportation using various types of rigging and special equipment.