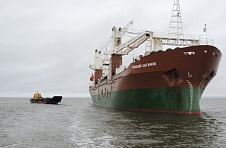 Oboronlogistics LLC signed the state contract with the Ministry of defense of Russian Federation for the provision of transport services on delivery of cargoes in the Arctic zone in 2019.
From July to October 2019 it is planned to carry out 4 trips and transport about 10 thousand tons of cargo (including military equipment and property, food).
The contracts were signed according to the order of the Government of the Russian Federation that defined of LLC Oboronlogistics as the only executor of the works and services carried out in the interests of the Ministry of defense of Russia in 2019 and 2020 related to the delivery of goods to the Arctic zone of Russian Federation and the Far East.
The ships will be loaded at the ports of Arkhangelsk, Murmansk, Vanino and Petropavlovsk-Kamchatsky to follow in the direction of Land of Alexandra, Northern Land archipelago, Novosibirsk Islands, Wrangel island, Cape Schmidt (Chukotka district) and Tiksi port (Republic of Sakha (Yakutia).
As a part of the Arctic waste clean-up program on the way back the ships will take off metal scrap from Kotelny and Wrangel islands. The delivery of goods to the Arctic points, as well as the export of return cargo is planned to be completed in September – October of this year.
The cargo delivery is planned by the own fleet of Oboronlogistics and chartered vessels of partner companies using the developed routes in accordance with the tariffs of the Concept of transport support in the Arctic zone of the Russian Federation and the far East region.
As far as the Islands of the Arctic zone are not equipped with port facilities Oboronlogistics is going to use special roadstead vessels, that will be delivered to the unloading place by the ships along with the main cargo.