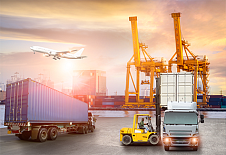 Oboronlogistics own truck transport (subsidiary company SK-SOUTH, Novorossiysk) receives a special permit for the transportation of dangerous goods in accordance with the European agreement concerning the international carriage of dangerous goods – ADR.
Obtaining the ADR certificate expands the possibilities of Oboronlogistics as a universal transport carrier. The ADR permission entitles the company to work with all types of dangerous goods and indicates that the company observes safety rules and that its vehicles, their constructions, equipment and the crew meet the requirements and are allowed to transport dangerous goods.
The European agreement on the international carriage of dangerous goods by road was initiated by the UN more than 50 years ago and currently includes a list of substances from 13 hazard classes. ADR operates in the EU, Kazakhstan, Azerbaijan, Morocco and Russia. The new edition of ADR was published in January 2019.