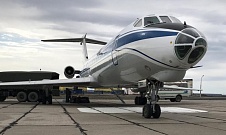 9 July 2019, Oboronlogistics together with JSC Cosmos carried out the first flight on the route Arkhangelsk – Novaya Zemlya – Arkhangelsk on the passenger aircraft Tu-134A.
Air transportation of passengers and cargo on the Tu-134A aircraft is the starting point in solving the large-scale task of increasing the transport accessibility of the Novaya Zemlya archipelago for specialists and their families, who are involved in the development of the Arctic zone of the Russian Federation.
Oboronlogistics with JSC Cosmos will establish Charter flights on a regular basis in the direction of Arkhangelsk – Amderma-2 (Rogachevo airport) and back three times a week (Monday, Wednesday, Friday).
Flights are performed on a high-speed and comfortable aircraft Tu-134A with a capacity of 30 to 60 passengers. The use of this type of aircraft also allows to increase the volume of cargo transportation of food and consumer goods to the archipelago Novaya Zemlya.
Currently, the companies are working on expanding the route network and opening new, popular Northern flight destinations, such as: Arkhangelsk – Murmansk, Arkhangelsk – Amderma-1, Arkhangelsk – Naryan-Mar, Arkhangelsk – Kotlas – Syktyvkar – St. Petersburg.