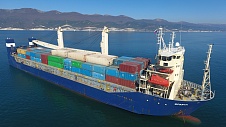 Universal cargo ship "Sparta" from Oboronlogistica fleet passed a planned classification examination.
Ships are required to pass this inspection every five years to confirm the class of the vessel, its serviceable technical condition (vessel hull, electronics, mechanisms) and compliance with environmental safety.
During the examination in accordance with the requirements of the IMO International Convention a new ballast waters treatment system was installed at Sparta. This system reduces the risks of environmental pollution and allows not to go through additional procedures for the replacement of ballast waters.
Also, the bottom part of the vessel was covered with a silicone-based paint coating. It protects the vessel hull, helps to reduce resistance and fuel consumption from 5 to 12%.
Currently "Sparta" is sent to the archipelago Novaya Zemlya for Northern delivery within implementation of the state contracts with the Russian Defense Ministry on rendering transport services on in 2019.