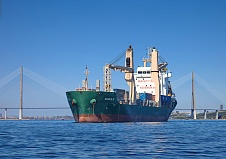 Cargo ship "Sparta IV" from Oboronlogistics fleet arrives in home port of Novorossiysk. In future "Sparta IV" will be ready to start shipping in the waters of the Black, Mediterranean and other seas.
"Sparta IV" provides interests of the Russian Ministry of defence a on delivery of general and bulk cargoes, including dangerous freights, cars, heavy equipment and oversized cargo.
Modern and high-speed "Sparta IV" was constructed 2017 and became a part of the Oboronlogistics fleet since may 2018. Ship is equipped with two cargo cranes with a capacity of 55 tons each.
The deadweight of "Sparta IV" is 8625 tons. The ship has two cargo holds and are able to carry 630 TEU, including 44 container of reefer type.
Previously "Sparta IV" worked in the port of Vladivostok on the Vladivostok-Magadan-Vladivostok line and in the Asia-Pacific region.