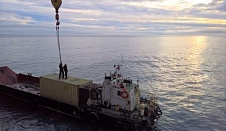 During the summer navigation of 2019, Oboronlogistics began to execute state contracts with the Russian Ministry of defense for the delivery of goods to Arctic and archipelago Novaya Zemlya.
From the ports of Murmansk and Arkhangelsk the cargo proceeded to the archipelago of Novaya Zemlya, port of Tiksi, the Islands of the archipelagos Franz Josef land, Northern Zemlya and Novosibirskie Islands/
According to the Arctic clean-up program, Oboronlogistics organizes export of obsolete equipment and scrap metal from the islands. In total, it is planned to export more than 3,000 tons of scrap metal from Arctic region.
In the Arctic, the delivery of goods is carried out using the means of raid vessels. Transportation is scheduled to be completed in October.