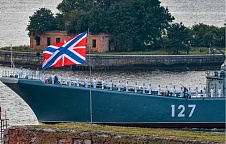 The shipping company SC-North-West from the Oboronlogistics group of companies took part in the preparation and organization of the Main naval parade of Russia, which took place in St. Petersburg on the Russian Navy Day on July 28, 2019.
More than 40 ships, boats and submarines of the Northern, Pacific, Baltic and Black sea fleets arrived in St. Petersburg to participate in the parade in the waters of the Kronstadt and Neva river.
The main naval parade has been held in St. Petersburg since 2017 and was established by the decree of the President of the Russian Federation Vladimir Putin.
Shipping company SC-North-West is located in St. Petersburg, the main activity of the company is implementation of transportations and towing on sea and internal waterways of Russia.
http://navyparade2019.mil.ru/kronshtadt.html