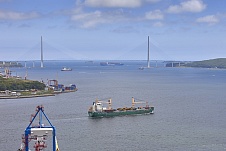 Oboronlogistics works under state contracts for Maritime transportation in ports (points) of the far Eastern region (Anadyr, Magadan, Petropavlovsk-Kamchatsky, etc.) for needs of the Ministry of defence of the Russian Federation in 2019.
During the summer navigation 2019, it is planned to deliver more than 5,000 tons of military cargo (food, medicines, equipment, fuel, lubricants and construction materials) within the framework of state contracts. Control over the organization of loading and unloading operations is carried out by specialists of the company, many of them had experience of military service in the region.
The contracts were signed in accordance with the order of the Government of the Russian Federation on the definition of LLC Oboronlogistics as the sole executor of the works and services carried out by the Ministry of defense of Russia in 2019 and 2020 related to the delivery of goods to the Arctic zone of the Russian Federation and the Far East region.
Due to the implementation of the functions of the single transport and logistics operator in the face of Oboronlogistics it is possible to combine on a single ship the goods delivered in the interests of the various organs of the military Department and Contracting organizations of the Military-construction complex of the Ministry of defense.