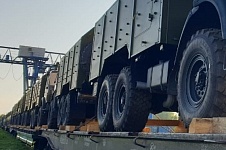 Oboronlogistics provides a large rail transportation of production from Volga Federal district enterprises to the Far Eastern region of Russia.
According to the state defense order of the Russian Defense Ministry, a large batch of special equipment is transported on railway platforms in several trains to destinations in Siberia and Russian Far East.
Specialists of the Oboronlogistics control the placement and fastening of cargo, monitor the movement of cargo along its path.
Implementation of such transportation project contribute to established partnerships of Oboronlogistics with the enterprises of railway transport of Russia.