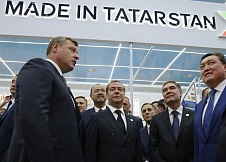 LLC OBL-trans from Oboronlogistics Group of companies, carried out the transportation of the party of exhibition samples of the Russian civil engineering to the exposition of the First Caspian economic Forum, which was held 11 - 12 August 2019 in the city of Avaza (Turkmenistan).
Forum hosted the international Caspian exhibition of innovative technologies and automobile exhibition "Turkmen sahrani – 2019". Prime Minister of the Russian Federation Dmitry Medvedev and President of the Republic of Tatarstan Rustam Minnikhanov visited the exhibition.
Exhibition samples were delivered from Kazan to Avaza by specialized road transport with border crossing transit through the territory of the Republic of Kazakhstan.
The task of transportation of oversized cargo was made by Oboronlogistics experts in full extent. The practical experience obtained in the organization of transportation will be used in the future in execution of new orders on other routes.
The main advantages of Oboronlogistics is efficient transportation and "door to door" delivery. For the transportation of heavy and oversized cargo the company uses low-frame trucks (trawls) and designs transportation using various types of rigging and special equipment.