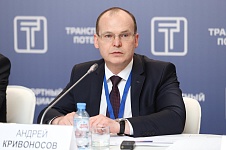 On September 12-13, 2019, the XII international forum "Transport capacity" was held in St. Petersburg. The main theme of the plenary session of the Forum was "Digitalization as the basis of the new architecture of cargo transportation in Russia".
As part of the business program of the forum, Oboronlogistics presented its experience in organization and optimization of logistics in Arctic at the session "Development of the Northern sea route: how to increase cargo transportation?".
The main task for Oboronlogistics is to ensure the transport needs of the Russian defense Ministry on the delivery of cargo. The development of an efficient transport and logistics system in the Arctic is one of the key vectors of the company's activities.
Due to the implementation of the function of the only provider of transport services in Arctic Oboronlogistics managed to solve the problem by combining some courts of cargo delivered in the interests of the various military customers, and civil organizations implementing infrastructure projects in the Arctic. Consolidation of cargoes of different customers provided a significant reduction in budget expenditures.
All transport and logistics operations are managed by the Situation and logistics center (SLC), which uses a unique software that has significant development potential. Real-time information about weather, ice conditions, and movement of vehicles is monitored at every stage of transportation.
The creation of an automated logistics information management system in the Arctic solves issues primarily in the interests of the Russian defense Ministry, but, at the same time, it can work in the interests of other operators in the Arctic.
Along with the state orders Oboronlogistics carries commercial traffic in the Arctic. As an example: in September 2019 ship Sparta III, part of the fleet Oboronlogistics, performs a commercial transportation of project cargo from China to Europe via the Northern sea route, that significantly reduces the time of transportation and reduce its cost.
Reference:
The international forum "Transport capacity" unites the efforts of industry representatives and authorities to develop effective solutions for the development of domestic cargo transportation, transit opportunities and transport infrastructure of the country, as well as to promote the creation of a modern digital transport system in Russia for the comfortable work of all industry participants.
The event is supported by The state Duma of the Russian Federation, the Ministry of transport of the Russian Federation, the Eurasian economic Commission, the Ministry of industry and trade of the Russian Federation, Russian railways and other relevant agencies that develop and implement state policy in the field of transport.
The forum includes business and exhibition programs. The main outcome of the Forum is a Resolution with the proposals of the participants, which will be sent to the relevant authorities for the preparation of recommendations and improvement of industry legislation.