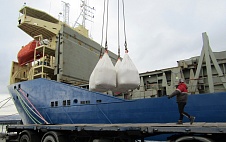 In February 2021 Sparta delivered a batch of agricultural products from the Syrian Arab Republic. Containers with fruits and 400 tons of phosphate fertilizers arrived from Tartus to Novorossiysk. Transportation will continue in March.

The transportation of agricultural products is the result of joint work between Russian and Syrian companies aimed at restoring the Syrian economy and implementing agreements in the field of trade and economic cooperation between the two countries and in the field of the agricultural and industrial sector.

In 2018, the Government of the Russian Federation decided to establish a special procedure for the arrival and departure from the territory of the Russian Federation of cargo transported by vessels of Oboronlogistics LLC within the framework of economic cooperation with foreign states. This solution allows to create favorable conditions for Russian business, increase exports and imports of goods, and increase the volume of Russian traffic in the Middle East.