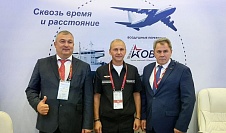 On August 23, 2021, on the sidelines of the International Military-Technical Forum ARMY-2021, Oboronlogistics LLC held talks with representatives of the Association for the Promotion of the Implementation of the state Defense Order.

At the meeting, the participants discussed the formation of conditions for improving the efficiency of the organization's activities and preparing for the next meeting of the Association's members.

Oboronlogistics supports the idea of sharing positive experience in providing transport and logistics services within the framework of the implementation of the state budget between the participants.

Oboronlogistics LLC has been a member of the Association since October 5, 2020. The non-profit organization was created to form a market for responsible and conscientious performers of state defense orders, develop quality standards for performing services, implement a code of professional ethics, protect the legal rights of Association members, as well as find solutions to systemic problems existing in legislation, taking into account the experience of Association members.