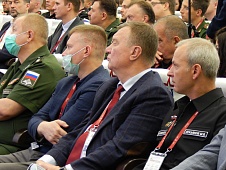 On August 26, 2021, as part of the business program of the International Military-Technical Forum ARMY-2021, the management of Oboronlogistics LLC took part in the fifth anniversary conference of the Military Construction Complex of the Ministry of Defense of the Russian Federation (VSK).
Opening the conference, Deputy Minister of Defense of the Russian Federation T. V. Ivanov noted that this year the Military Construction Complex paid more attention than ever to the construction of socially significant civilian objects: residential buildings, schools, hospitals, hydraulic structures, airfields throughout the country.
Once again, VSK demonstrated its ability to cope with the tasks set quickly and efficiently, and all the departmental and contractor organizations involved in the process once again proved their integrity and high professionalism.
Materials for the construction of facilities, including in hard-to-reach areas of the Arctic, are delivered from all over the country. Optimization of supplies and transportation is the key to the successful implementation of projects. An important role is played by the presence of VSK's own capacities, which can smoothly solve complex issues related to the supply of objects under construction.
Oboronlogistics has been working in the structure of the Military Construction Complex since 2015, being responsible for the delivery of materials, transportation and storage of goods. In 2021, the vessels of Oboronlogistics delivered more than 8000 tons of various materials intended for the construction of a preschool institution for 360 places on the Novaya Zemlya archipelago.
In 2021, the company delivered 24,000 tons of cargo of various categories, including airfield plates, inert materials, modular blocks, 20 - and 40-foot containers with food and construction materials, to the Land of Alexandra of the Franz Josef Archipelago.