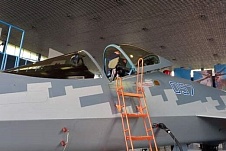 As part of the VII International Military-Technical Forum ARMY-2021, Oboronlogistics LLC provided automobile transportation of the exhibit for Sukhoi Company JSC.

The aircraft product was delivered from the Zhukovsky airfield to the Patriot Convention and Exhibition Center for participation in the forum exposition. Transportation was carried out using a low-frame trawl with a special block-module.

The size of the oversized cargo exceeded the standard capacity of highways, so loading and transportation was carried out at night and was accompanied by increased security measures. The task of delivering oversized cargo was completed by the specialists of Oboronlogistics LLC in a timely and complete manner.