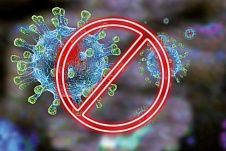 In accordance with paragraph 5 of the Decree of the President of the Russian Federation on the establishment of non–working days on the territory of the Russian Federation in October - November 2021, in order to prevent the spread of COVID-19, Oboronlogistics LLC has determined the number of employees who will ensure the constant functioning of the organization.
Cargo transportation by sea vessels of Oboronlogistics will be carried out on time according to the concluded contracts and in compliance with all restrictive measures and sanitary and epidemiological requirements of the Russian Federation.
When Oboronlogistics ship enters the port, any contacts and interaction between ship and shore personnel are limited. Regular PCR tests, disinfection and cleaning are carried out on board, antiseptics and personal protective equipment are used.
Unauthorized persons are not allowed on the vessels except Ambal and Baltiysk ferries, on which the transportation of persons accompanying cargo and vehicles is allowed, subject to sanitary measures and the presence of negative results of PCR tests conducted no more than 3 days before the start of sea transportation.