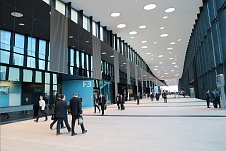 On November 11, 2021, the management of Oboronlogistics LLC took part in the first meeting of the organizing committee for the preparation of the VI International Forum Arctic – the Territory of Dialogue, held at the Government House of the Russian Federation under the leadership of Deputy Prime Minister of the Russian Federation – Plenipotentiary Representative of the President of the Russian Federation in the Far Eastern Federal District Yu.P. Trutnev.

The event was attended by members of the organizing committee, representatives of federal and regional ministries and departments, the scientific community, as well as companies operating in the Arctic zone of the Russian Federation.During the meeting, the main aspects of the preparation of the international event were discussed – the formation of business, cultural and sports programs taking into account the requirements of Rospotrebnadzor.

The VI International Forum Arctic - the Territory of Dialogue will be held on April 11-13, 2022 at the Expoforum Exhibition Center in St. Petersburg. The Forum is a key platform for discussing topical issues of socio-economic development of the Arctic territories and sustainable growth of the Arctic region. Traditionally, the forum brings together representatives of Arctic and non-Arctic states, heads of relevant ministries and departments, subjects of the Russian Federation, heads of Arctic regions, countries and international organizations, representatives of business and the scientific community of Russia and the world, public figures and experts.

In 2022, it is planned to invite 2.5 thousand guests from more than 50 countries of the world. It is expected that the agenda of the forum will be strengthened due to the topics of Russia's Chairmanship in the Arctic Council in 2021-2023. The forum program will consist of eight thematic blocks: Sustainable economic growth, Human capital development, Ecology and Climate Change, The Northern Sea Route - sustainable shipping and Transport, Priority Sectors of the Arctic, Healthcare in the Arctic zone in the post-crisis period, Science and Technology and Arctic Tourism.

Oboronlogistics LLC is actively involved in the development of the Arctic. The Oboronlogistics fleet operates in the waters of the Northern Sea Route, delivers cargo in the interests of the Military Construction Complex of the Russian Defense Ministry and other organizations engaged in the construction of social and industrial infrastructure facilities in the Arctic zone. In addition, the company's vessels are regularly used to export scrap metal and used equipment as part of the Arctic cleanup program.

The official website of the VI International Forum Arctic - the territory of dialogue: www.forumarctica.ru